We deliver workshops to survivors, partners and the wider community on a range of topics and are always interested in talking to anyone who would like to work with us in this way.
We recommend that you call the office before coming in for a workshop that you have not booked for in advance – sometimes staff shortage results in last minute cancellation.
If you would like to join the mailing list to be kept informed about our upcoming workshops and groupwork, enter your details here.
Pre Drop-In Workshops
Free regular workshops, fortnightly from 5pm – 6.45pm.
Talking and learning from each other as well as using the creative arts.
Please feel free to stay for the Drop-in later (7pm-9pm)!
(click the image to see the poster in full)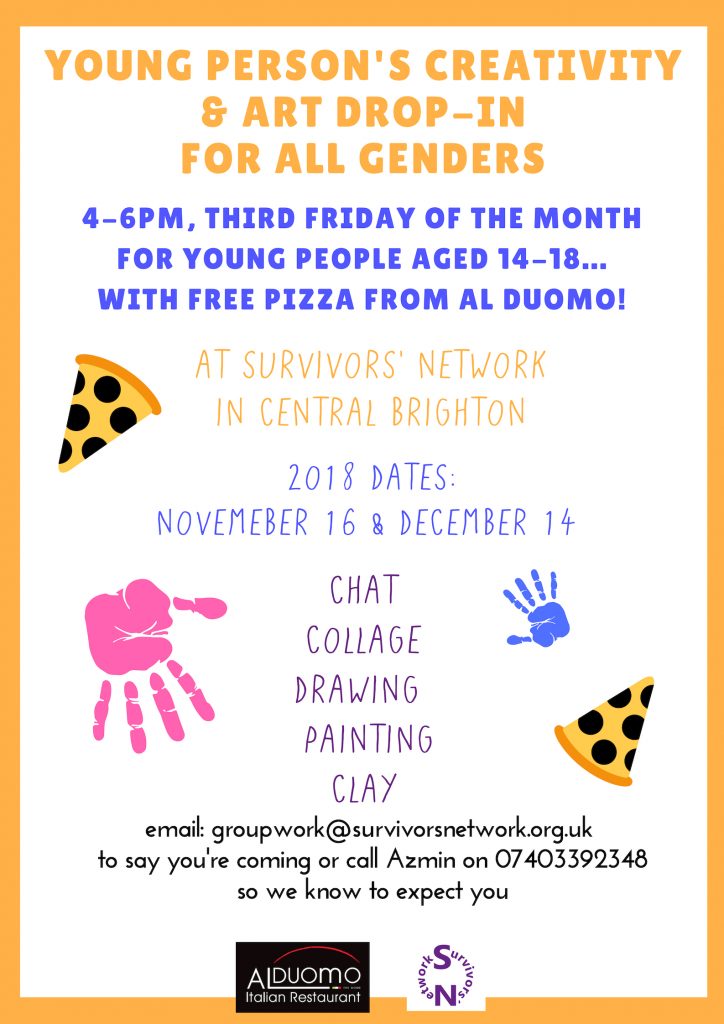 Creativity & Art Drop-In for young people aged 14-18
Every 3rd Friday of the month from 5-7 pm
Make, create & chat: no artistic skills required
Email: groupwork@survivorsnetwork.org.uk to register or call Azmin on 07403 392348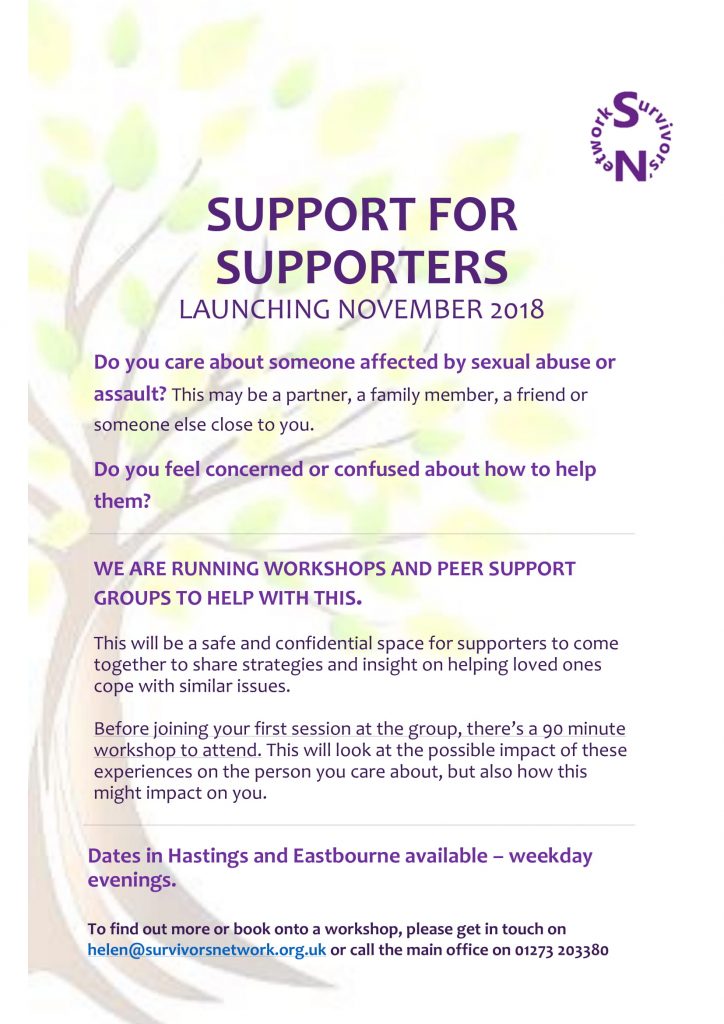 Support for Supporters: new group
This will be a safe and confidential space for supporters to come together to share strategies and insight on helping loved ones cope with similar issues.
Before joining your first session at the group, there's a 90 minute workshop to attend. This will look at the possible impact of these experiences on the person you care about, but also how this might impact on you.
Dates in Hastings and Eastbourne available – weekday evenings.
Hastings: (2nd Monday of month) : 10th December, 14th January, 11th February, 11th March, 8th April, 13th May, 10th June, 8th July
Eastbourne: (3rd Thursday of month apart from Dec) : 13th December, 17th January, 21st February, 21st March, 18th April, 16th May, 20th June
To find out times/locations or book onto a workshop, please get in touch on helen@survivorsnetwork.org.uk or call the main office on 01273 203380.
Yoga has an amazing capacity to heal, to empower ourselves, engage our bodies, and remember our connection to the world. With the tools yoga offers us we can clarify the mind, detoxify the body and have more energy to show up in the world with a joyful and open heart.
These yoga classes are suitable for all shapes sizes and abilities. Yoga is for everybody with every body type and is a pathway for us to grow and expand so that we can feel more connected, confident and present in our lives.
Join Lucy on Fridays at About Balance (20-22 Gloucester Place, Brighton, BN1 4AA) 3pm-4pm. The class is FREE for women who access Survivors Network and RISE.
Spaces are limited and subject to an initial conversation about suitability. Please email lucy@survivorsnetwork.org.uk to book.
Homeopathy Clinic
Donation based service on the first and third Tuesday of every month, 9.30am – 12.30pm at Survivors Network, 6A Pavilion Buildings, BN1 1EE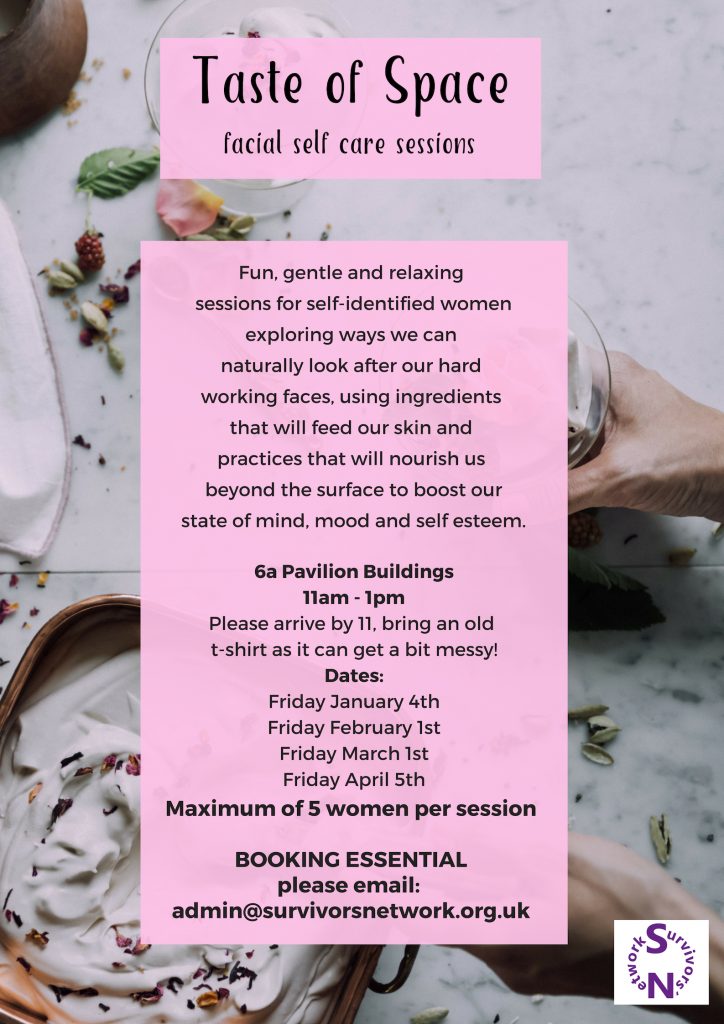 Taste of Space
Fun, gentle and relaxing sessions for self-identified women exploring ways we can naturally look after our hard working faces, using ingredients that will feed our skin and practices that will nourish us beyond the surface to boost our state of mind, mood and self esteem.
One session a month – booking essential.
No Further Action Group
This new group is specifically for women who have been advised that the police/CPS will not be taking their case any further.
An opportunity to share feelings, reflect and talk to women who have had similar experiences.
Every second Friday of the month, 5.30-7pm.
No need to book your place in advance but please arrive by 5.15pm so we can start at 5.30pm prompt.
Friday 14 Dec / 11 Jan / 8 Feb / 8 March.
For further info contact Azmin on 07402392348 or groupwork@survivorsnetwork.org.uk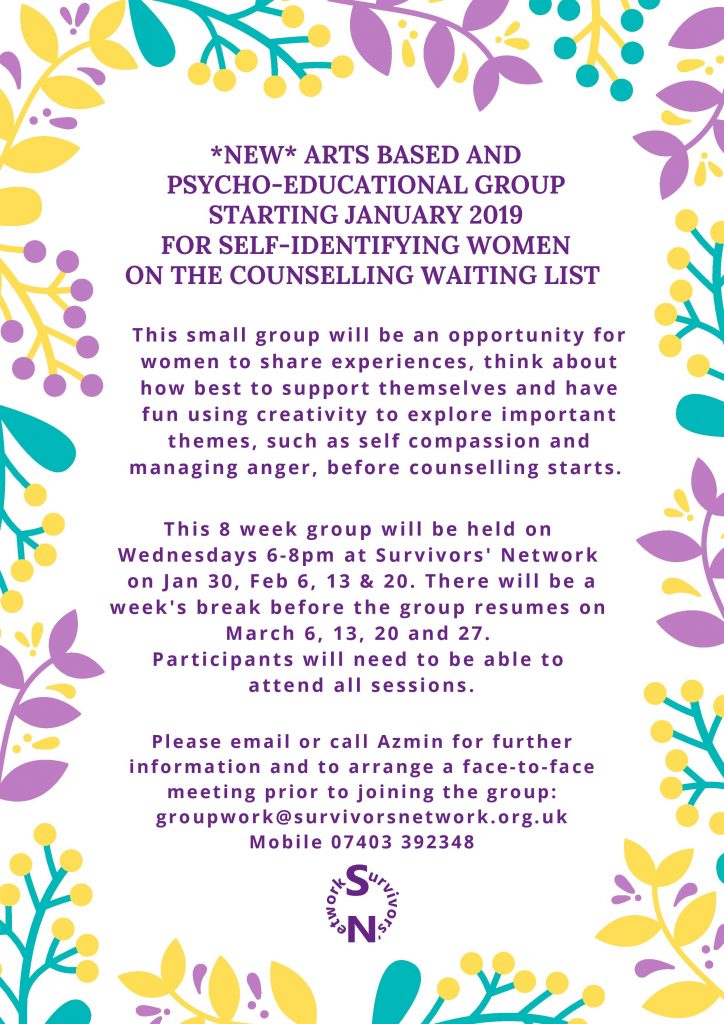 *NEW* ARTS BASED AND PSYCHO-EDUCATIONAL GROUP STARTING JANUARY 2019 FOR SELF-IDENTIFYING WOMEN ON THE COUNSELLING WAITING LIST.
This small group will be an opportunity for women to share experiences, think about how best to support themselves and have fun using creativity to explore important themes, such as self compassion and managing anger, before counselling starts. This 8 week group will be held on Wednesdays 6-8pm at Survivors' Network on Jan 30, Feb 6, 13 & 20. There will be a week's break before the group resumes on March 6, 13, 20 and 27. Participants will need to be able to attend all sessions. Please email or call Azmin for further information and to arrange a face-to-face meeting prior to joining the group: groupwork@survivorsnetwork.org.uk Mobile 07403392348
New Kick-boxing Group
Who? Women in Brighton and Hove (18+) who've experienced violence and / or abuse.
What? Women will work on footwork, movement, breathing and body awareness, with the opportunity to use training bags and pads, with the group coaches.
When? The first group will start in February 2019 and run on Friday lunchtime, all future dates are tbc through the year; please see below on how to enrol.
Where? Kicks Martial Arts Centre, Lewes Road, Brighton. Exercise is recognised as an effective tool for stress management; we hope that on completion of the sessions women will feel stronger; more confident; more resilient; and more able to deal with life on a day-to-day basis.
Women can enrol onto this course through:
• Rise (Refuge, Information, Support and Education ) 0300 323 9985 www.riseuk.org.uk
• Survivor's Network 01273 203380 www.survivorsnetwork.org.uk
• Kicks Martial Arts Centre on 01273 673680 or info@kicks.org.uk or www.kicks.org.uk
All levels of fitness are welcome.