Pre Drop-In Workshops
Free monthly workshops on different topics.
Unfortunately, due to Governmental guidance, all of our groupwork is currently not running. Please refer to our News section for the most recent updates.
We run free Pre Drop-in workshops monthly from 5pm – 6.45pm. They include talking and learning from each other as well as using the creative arts, with a different topic as the focus each session.
The workshops start at 5.15pm sharp at 6a Pavilion Buildings. Please arrive from 5pm if possible to guarantee a space. Due to limited space in the room, our maximum number is 9 self-identifying women at each workshop.
Please note: Participants attending workshops won't be asked to share any personal sexual violence/abuse experiences.
This page may not always be up to date with Pre Drop-In topics – please contact the office to confirm details, or sign up to our monthly Workshops & Groupwork mailing list for regular updates.
Workshops may be cancelled at short notice due to unforeseen circumstances. If you need to check, you can call the main office on 01273 203380 on the day of the workshop.
Please feel free to stay for the Drop-in later (7pm-9pm)!
Topics coming up…
Thursday 27th February: Setting intentions and overcoming barriers
Thursday 19th March: New Beginnings for the Spring Equinox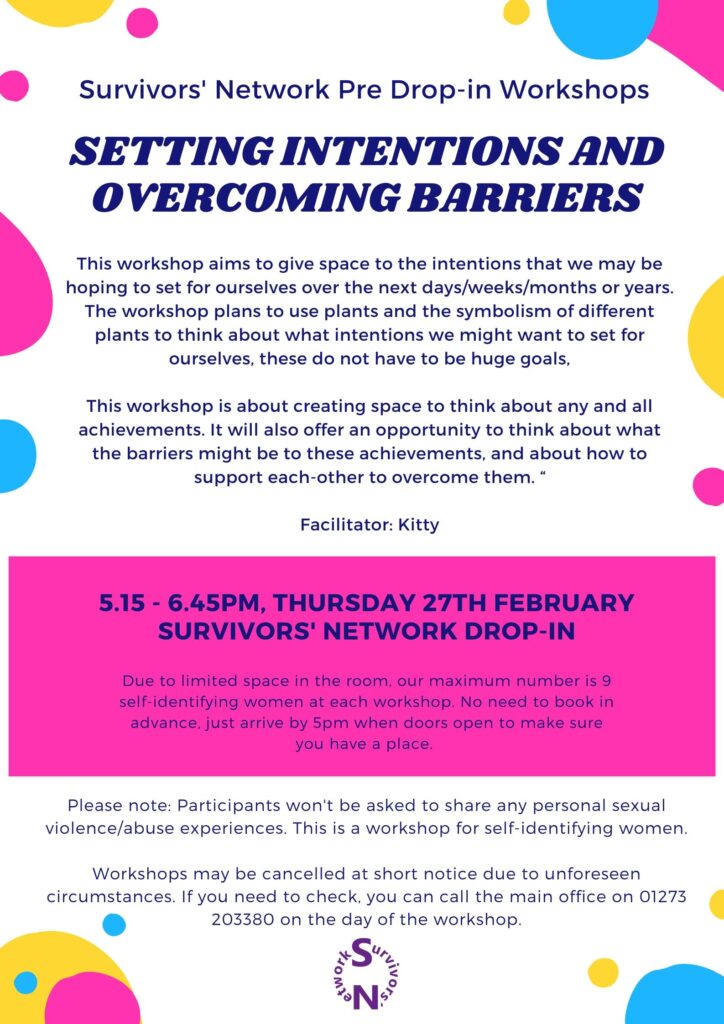 Download the poster!
Download a pdf copy of our poster for this workshop to print out and display.
Pre Drop-in poster March (pdf)
Sign up to our Workshops and Groupwork mailing list for regular updates and information.