Taste of Space
Facial self-care sessions
Unfortunately, due to Governmental guidance, all of our groupwork is currently not running. Please refer to our News section for the most recent updates.
Fun, gentle and relaxing sessions for self-identified women exploring ways we can naturally look after our hard working faces, using ingredients that will feed our skin and practices that will nourish us beyond the surface to boost our state of mind, mood and self esteem.
During lockdown, two Taste of Space sessions were shared online – you can view them here.
One session a month – booking essential – from 11am to 1pm.
Please arrive by 11, bring an old t-shirt as it can get a bit messy!
Held at the Survivors' Network building: 6a Pavilion Buildings, Brighton, BN1 1EE
Held on December 6th, January 10th, February 14th.
Maximum of 5 women per session.
To book please email admin@survivorsnetwork.org.uk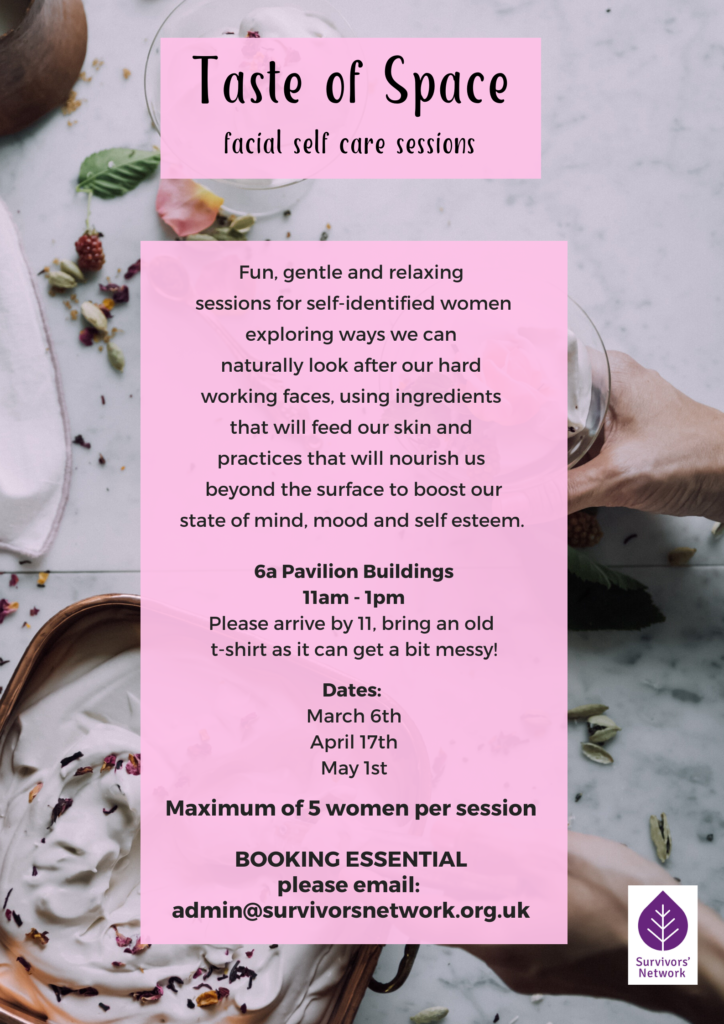 Download the poster!
Download a pdf copy of our poster for this workshop to print out and display.
Taste of Space (pdf)
Sign up to our Workshops and Groupwork mailing list for regular updates and information.