Yoga and Mindfulness
Reclaim your body through yoga and mindfulness.
Unfortunately, due to Governmental guidance, all of our groupwork is currently not running. Please refer to our News section for the most recent updates.
Yoga has an amazing capacity to heal, to empower ourselves, engage our bodies, and remember our connection to the world.
With the tools yoga offers us we can clarify the mind, detoxify the body and have more energy to show up in the world with a joyful and open heart.
These yoga classes are suitable for all shapes, sizes and abilities. Yoga is for everybody with every body type and is a pathway for us to grow and expand so that we can feel more connected, confident and present in our lives.
After my trauma I didn't know how to breathe anymore. Since joining this group, I learnt how to breathe again.
Join Lucy on Fridays at:
About Balance
20-22 Gloucester Pl, Brighton BN1 4AA.
3pm-4pm.
The class is FREE for women who access Survivors' Network or RISE.
We advise attendees to get in touch to book a place as spaces are limited.
To book please email: lucy@survivorsnetwork.org.uk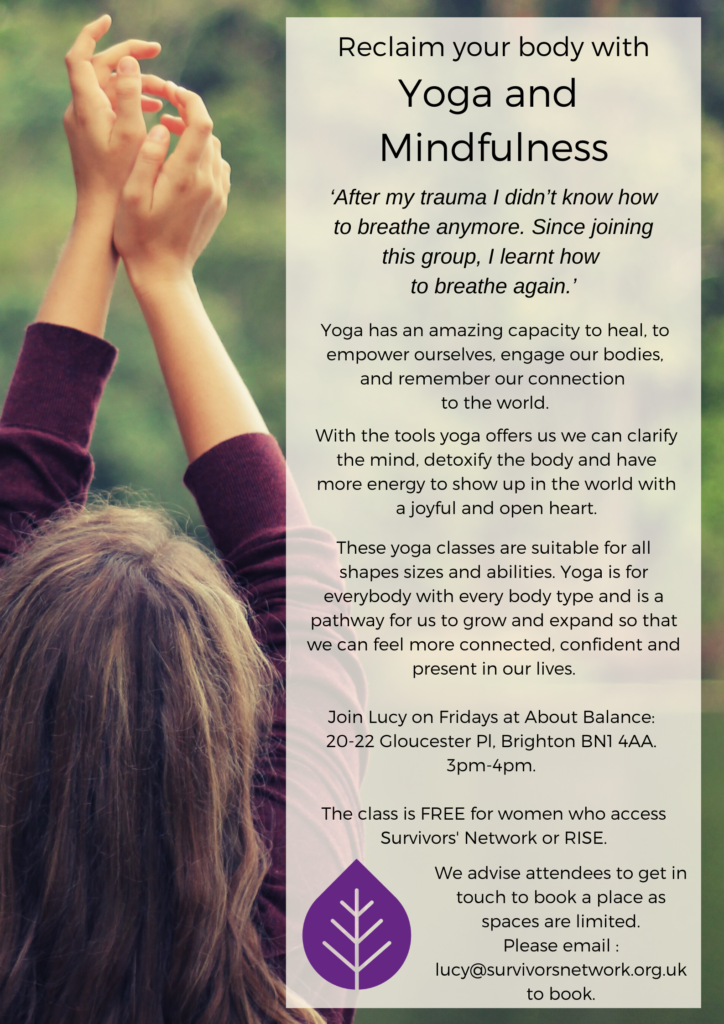 Download the poster!
Download a pdf copy of our poster for this workshop to print out and display.
Yoga Poster (pdf)
Sign up to our Workshops and Groupwork mailing list for regular updates and information.