News | 13 November 2023
Reclaim The Night - Read our CEO Jay's speech here.
"I stand before you today with a heart full of determination and a spirit ready to reclaim the night."
On the 10th of November, we gathered to take part in this year's Reclaim The Night march through central Brighton. We march, year on year, to have our voices heard and take a stand against sexual harassment. 
Reclaim The Night's message is for everyone to be awarded the freedom of walking at night, riding public transport, or going to a bar without fear of sexual violence or harassment.
Whether you are marching for your own rights to bodily autonomy or in solidarity with others, it is important to stand up and support the right to take up public space without fear of persecution or harassment. 
You only have to look at the news every second week to see an example of why we need to continue speaking up for those who are affected by street harassment. Despite recent improvements made to street harassment laws there is still so far to go.
We've been lucky enough to be asked to represent ourselves at the march each year, with our CEO Jay Breslaw delivering an inspirational speech that you can read here. 
"Women, allies, friends, I am Jay Breslaw, the CEO of Survivors' Network, the Rape Crisis Centre for Sussex, where last year, 1770 people contacted us for support and we supported over 3000 people, where every day we see the impact of a world where women's experiences are marginalised, and where women's safety has been pushed further and further down the agenda.
And yet, I stand before you today with a heart full of determination and a spirit ready to reclaim the night. We gather here not only to march, but to roar, to protest, and to demand an end to the high rates of sexual violence against women, all women. It's time to shine a light on the darkness that has shrouded our streets for far too long.
Reclaim the Night is not just a slogan; it's a battle cry for justice, for equality, and for a future where women can walk freely without fear. We are not here to lay blame or point fingers; we are here to unite, to raise our voices, and to bring about change. Our march is a call for solidarity, an invitation for everyone to stand beside us in this fight.
The statistics on sexual violence are staggering, and they are not just numbers; they are real lives affected by the scars of trauma, pain, and suffering. In a world where one in four women have experienced sexual violence as an adult and one in six children have been sexually abused, where countless stories remain untold, we refuse to accept this as the status quo. It is not acceptable for any woman, anywhere, to live in fear.
But let me be clear, this march is not about creating division. It's about breaking down the walls that divide us. Women, Men and Gender Diverse people, young and old, from all walks of life, we are all united in our shared belief that a safer world is both urgent and possible. When we speak out against sexual violence, we are advocating for a society that respects the autonomy, dignity, and safety of every individual.
Reclaim the Night is a powerful statement that we will not cower in fear, that we will not be confined to our homes, and that we will not be silenced. We reclaim the night, not just for ourselves, but for the generations to come. We want our daughters, our nieces, and our sisters, our friends to walk the streets without hesitation, to embrace the freedom to live without fear.
As we march tonight, remember the survivors, the voices that have been hushed, the stories that have been buried, and the lives that have been scarred. Let us also remember the allies who support us and the countless individuals who work tirelessly to end this epidemic of violence.
Our journey is long and the path may be arduous, but we are determined. We stand here with unwavering strength, resilience, and solidarity. Together, we can create a world where sexual violence is no longer a pervasive threat. So let us march, let us raise our voices, and let us reclaim the night. For in the darkness, we will find the strength to illuminate the path toward a safer and more just world for all. Thank you."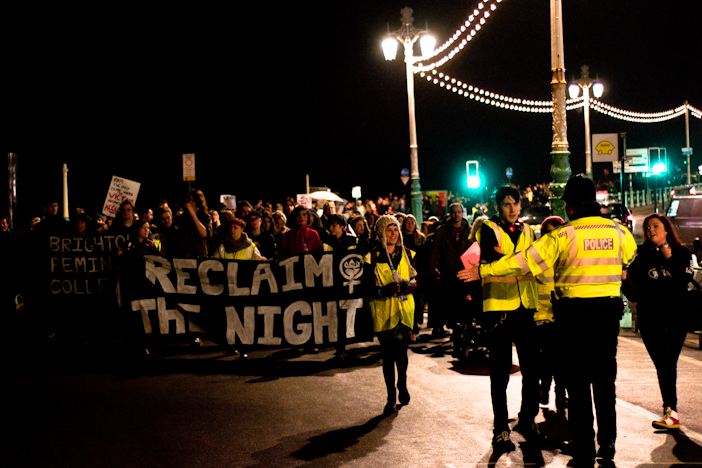 The History of Reclaim The Night 
The Reclaim The Night marches started in the UK on the 12th of November 1977, when torchlit marches were held across the English cities of Leeds, York, Bristol, Manchester, Newcastle, Brighton and London. The marches were called in reaction to the murder of several female sex workers in Leeds at the time and the police's subsequent response, encouraging women not to go out at night.
The march was called by the Leeds Revolutionary Feminist Group, who were inspired by news of coordinated women-only 'Take Back The Night' marches against sexual harassment, held across towns and cities in West Germany on the 30th of April 1977.