Speak Out Newsletter
Speak Out Issue 5 (1991)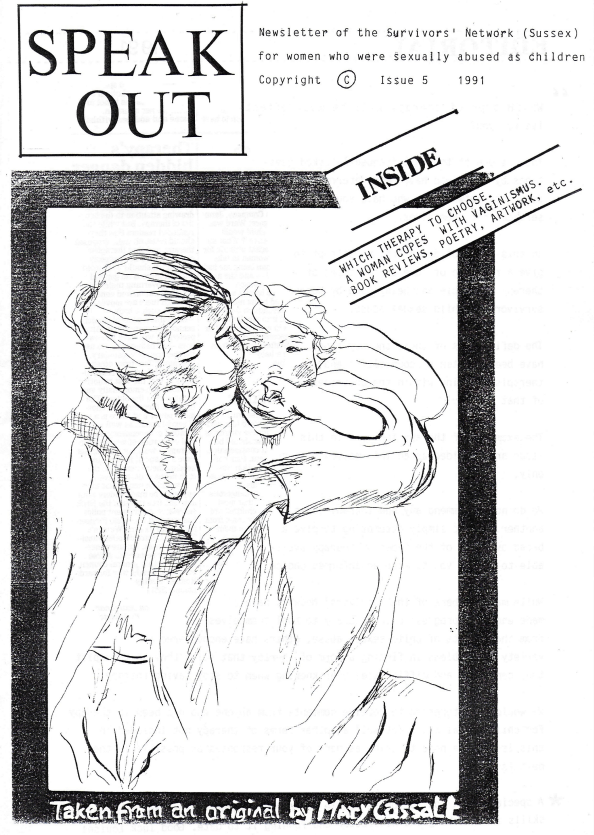 Issue 5 features articles on:
Different types of therapeutic support available for survivors
Poetry and reflections from survivors
A survivors' experience of vaginismus
Book reviews
Threshold plans for a Brighton Women's Counselling and Therapy Service or Centre
What is 'Speak Out'?
Speak Out was a regular newsletter produced by Survivors' Network.
The newsletter was first printed in 1990 when our organisation was set up, and there are over 100 issues of Speak Out in our archive!
Speak Out was a way of keeping our supporters updated about our work, as well as a vital space for survivors of sexual violence, abuse and harassment to express themselves and their experiences through articles, letters, poetry, artwork and more.
We are now slowly digitalising the entire archive, going back to the very start in 1990 and uploading a new issue onto our website each week. We are so excited to explore our organisation's past and journey from a small feminist grassroots organisation in Brighton & Hove, all the way to being The Rape Crisis Centre for Sussex.
Please follow us on social media for your weekly Speak Out update and to like/comment/share your thoughts and feelings around each issue!
Disclaimer:
*Please be aware that the views shared within the earlier issues of Speak Out are not necessarily reflective of the vision, mission and values held by our organisation today. Please also be aware that many issues of Speak Out contain disclosures and discussions of sexual violence, abuse, harassment and trauma, which some people may find particularly difficult and even triggering.*