Safer Spaces: Photography Project
Survivors share where they feel safest in Sussex in this photography project.
Survivors' Network asked participants to get involved in a landscape photography project where they shared their safe spots in the Brighton and general Sussex area which give them hope and peace.
The project hoped to explore the range which safe spaces can take form in, including the activities you would do within them, and sought to raise questions on how to create safer spaces for survivors with their voices leading the way.
Photographer Ryshel Patel carried out this project, creating 8 beautiful images, each with a corresponding statement from the survivor who described the space.
These photographs are available for sale – £40 framed, £20 unframed. You can also buy 6 of them as a pack of postcards for £5. If you would like to do so, please contact us on admin@survivorsnetwork.org.uk.
Seafront, Brighton
'I think…I think there is something about water. It doesn't have to be there necessarily but it does something […] It's the ripples, the pattern they make. It's peaceful and just really nice to look at as they disappear […] I used to cycle along the seafront too. There was something about being in control again, and not having your mind on anything else but what was in front of you. You have to focus.'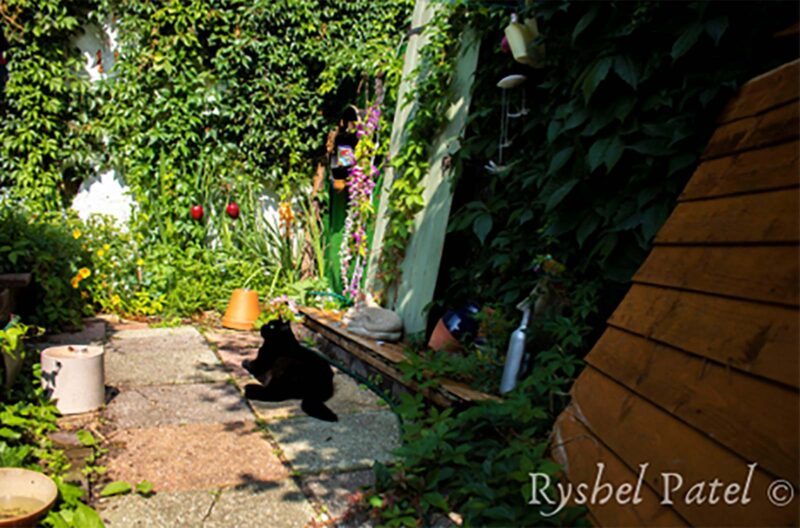 Garden of Brighton
'I knew eventually things would grow there. It took forever. The sun shines awkwardly on the garden. […] My mum loves to garden but […] This was something I wanted to prove I could do on my own. It was like my first step in my journey outside again, but close enough to home […] There is something about planting a seed and seeing growth happen. And then seeing those small flowers […] It helps when he's [her black cat] around, I know I'm safe then. And eventually I managed to get out further of that place, with friends.'
Cherry Tree Cafe, Brighton
'I just really like it there. It's just […] quiet. There aren't a lot of people there. But even when there is, it doesn't bother me. […] Whenever I go to the Marina, I go there because I know I can always relax there, and get distracted without worry because people watch over me. […] Wherever I am, if I'm with my daughter. I'm safe. […] So yeah, family is where my safe space is.'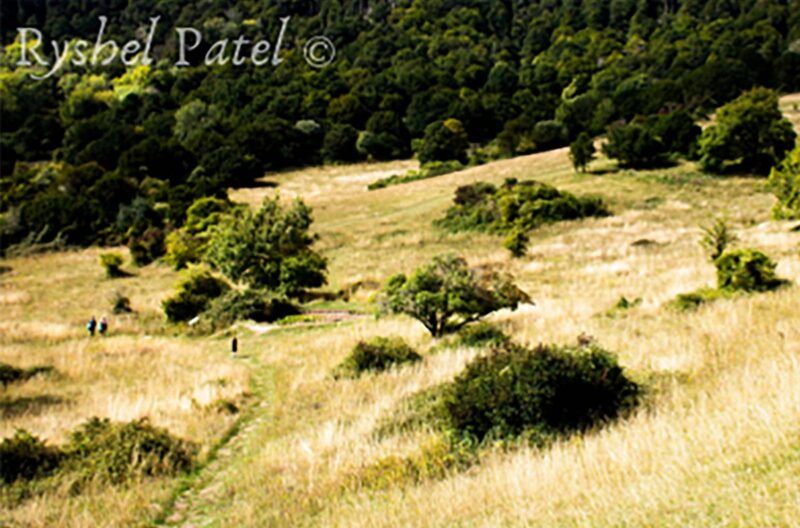 Kingley Vale Nature Reserve, Chichester
'People forget what nature is here for. To protect you. Like the branches from the rain or even sunshine […] Safe means protection. And space is somewhere out there, but yeah it can mean just me as a person too.'
Ancient path, Kingley Vale Nature Reserve
'There's an ancient path. I always go through them. It's full of these old yew trees. They tower above you and are everywhere. I get there using my motorcycle. […] The place always looks different depending on the season. But the yew trees are always the same – both in their look and the way they feel […] They go over you, like the branches protect you […]
St Ann's Well Gardens, Brighton
'I used to go there as a treat when I was younger […] I don't think I went often, it was more like a treat than anything. I never visited for years until I moved back. […] I suggested it to my daughter when she was looking for little places in Brighton to go […] It's nice to go there with my daughter, and my grandson now. I can sit in this open grass area and watch into the playground as he plays there. It's just relaxing. […] Yeah, I like the nostalgia of it all.'
Marwood Bar and Coffee House, Brighton
'Marwood is another place. The people in there are so lovely and always have a smile. […] There is something authentic about it. The quirkiness of it all makes it easy to be there. The amount of people for me isn't an issue. […] I love looking at the pictures and weird art on the walls – I think they sometimes change too.'
You can get involved in many of our projects at the events we attend and run. Find out if we have any upcoming events here.