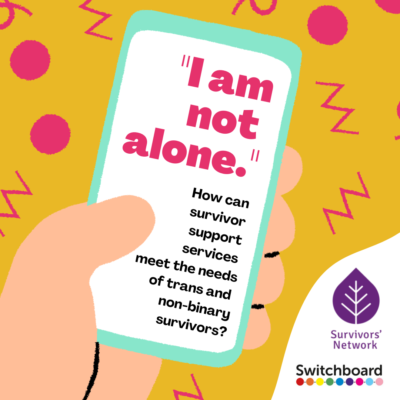 Report
How can survivor support services meet the needs of trans and non-binary survivors?
A report for survivor services on meeting the needs of trans and non-binary survivors of sexual violence
Download
From June 2020-2021 Survivors' Network and Switchboard received joint funding from the Sussex Police & Crime Commissioner to work together on a specialist project supporting Trans, Non-Binary and Intersex (TNBI) survivors of sexual violence.
The project involved running a consultation on the needs of TNBI survivors, delivering a peer support group for TNBI survivors and holding ongoing spaces for feedback and learning.
We have now published a report which shares experiences and insights from this project.
The report highlights gaps in existing provision, and provides recommendations to survivor services about how they must adapt to meet the needs of TNBI survivors.
Survivors' Network is proud of our part in running this project and producing this report. We know that this study is not the end of the journey – we still have work to do at Survivors' Network to be able to meet the recommendations in the report. We are particularly aware of the significance of a group like this, which was so powerful and healing, and the impact that ending it due to funding expiring has had on attendees. We are actively seeking funding for the continuation of this vital group, and internal work is ongoing to meet other recommendations of the report.